A gastronomic experience that connects to land, produce, and people through volts of deliciousness. 
Our restaurant comprises two areas, each offering a unique vibe. First, our open kitchen, where you can sit at bar level and observe the evolution of our dishes with our chef and kitchen team – a symphony of sights and sounds from the crackling fire of our open grills, to the expert preparation of each plate. This is often an interactive experience loved by our more inquisitive foodie patrons. 

Next, step into our intimate patio shaded by palm trees and flowering orchids. Amids this tropical space sits our mixology bar, set within the central courtyard of this historic home. With a glass roof overhead, you can enjoy the beauty of the cascading gardens above while your taste buds are seduced. With room for 22 guests, it's the perfect place to jam with friends or enjoy a cosy date night.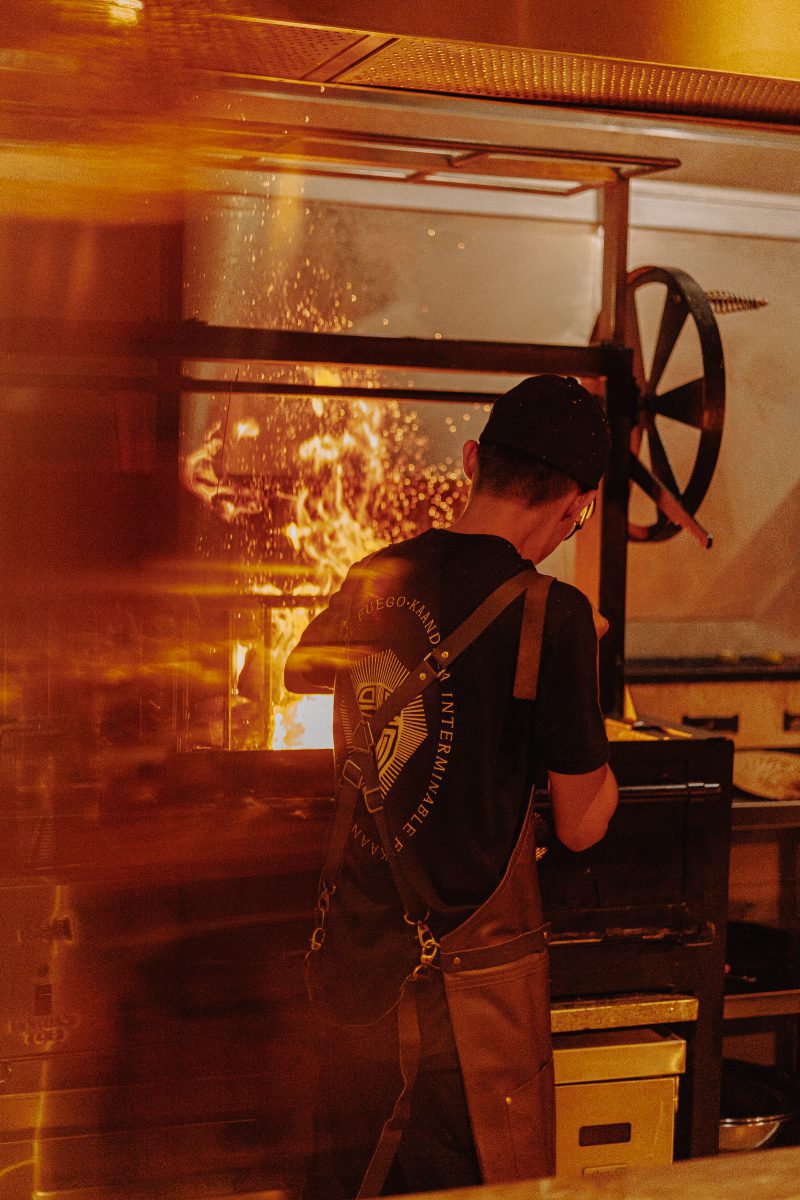 We invite you to join us for our playful exploration of flavour that is equal parts intuition and experience. With often primitive methods of concoction such as fermentation, smoking, raw dishes, curing, pickling and the magic and unpredictability of cooking over wood fire – all coming together with elegant execution in dishes designed for sharing and pairing. Purposefully a little disruptive, we take an approach to dining that is fun and encourages looking at traditional ideas from a new angle. This can be anything from getting stuck in with your hands, to rehashing recipes with funky local produce. We never stand still and continue to evolve –  just as fire refuses to hold a single form. 
Dale Kaandela!

Edy Acedo, a proud Panamanian born and raised in the heart of Panama City, my culinary journey kicked off at the tender age of 12. Cooking became a part of my daily routine after coming home from school and boy, did I love it! I had a massive appetite and I'd whip up pots of rice, beans, Bolognese sauce, spaghetti, and the list goes on. Soon enough, my friends started coming over for dinner, and it wasn't long before they realised I was quite the little cook.
But it wasn't until I stumbled upon The Food Network Channel that my love for cooking reached new heights. The passion, artistry, creativity, and techniques I saw the chefs use to create delectable dishes had me hooked instantly. So, I took my passion to the next level and enrolled in Instituto Argentino de Gastronomía. Just three months into my studies, I landed my first professional kitchen job, and that's all it took for me to know that cooking was my calling.
With determination and a hunger for growth, I returned to Panama, worked in some of the best restaurants in the city, and worked my way up to becoming the Chef at La Chesa, an Italian restaurant with a unique concept. And the rest, as they say, is history. Today, I am the Executive Chef of Amarla Hotels and Kaandela, where I get to showcase my love for food and put my years of experience and training to use. So, come visit us and let me take you on a culinary journey like no other!
Since the beginning of time humans have come together around fire to share stories, music, laughter and food. That is the essence of Kaandela. 
The libations at Kaandela crank things up a notch with sexy and innovative cocktails. On hand to regale you with tales of Panama's finest sips and spills are our bar team. They have the inside take on everything from the best Panamanian coffee to the most sought-after mezcals and whiskies. Raise a glass with us to life's blessings.
A place for creativity and exploration. We love the challenge of pairing wine and cocktails to the explosive flavours of the food from the kitchen. As well as getting out on the floor and connecting to our guests. A great deal of the cocktails are unique and have been inspired by our journey as mixologists, nothing makes us happier than to share this journey with you.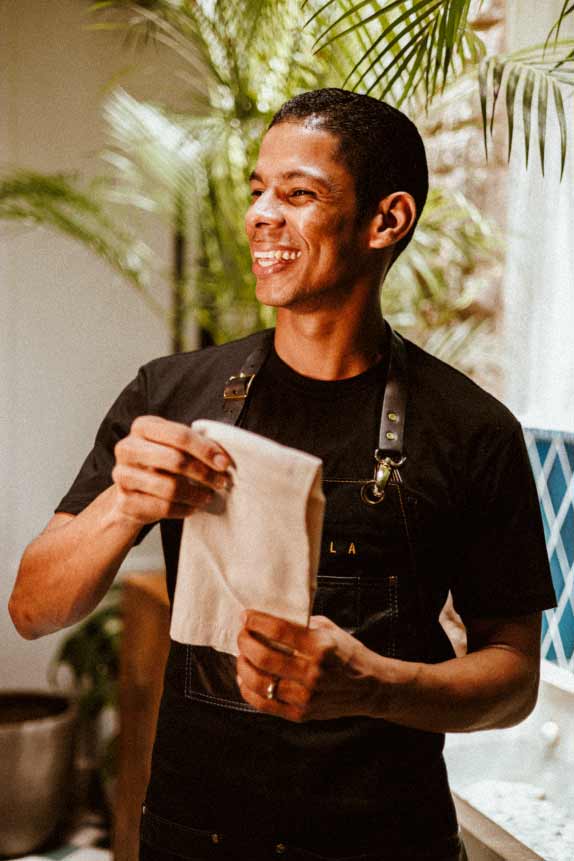 Meet Luis Afú, the man behind the exceptional experience at Kaandela. He brings a contagious passion for personalised service to the table. Whether you're looking for a customised dining experience or a knowledgeable recommendation, Luis is on hand to take that journey with you. So sit back, relax, and let Luis work his magic.
Maria Antonieta brings a heart-filled approach to hospitality, driven by her passion and human approach. She believes that true personal connections are built through energy and positive intention. She understands the importance of managing experiences and emotions in the service industry and brings more than 15 years of experience to the table. As the leader of Kaandela, she prides herself in offering personalised, detail-oriented experiences to each and every guest.